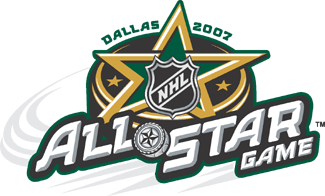 On the 19th Febuary 2007 I flew to Dallas TX. for the 55th NHL ALL-STAR GAME.
here are a few scans of me memorabillia. Click the image for it to open in a larger size in a new window.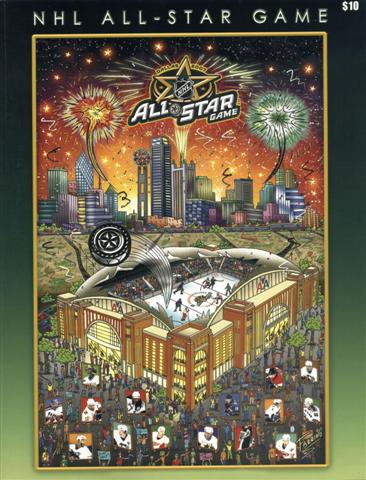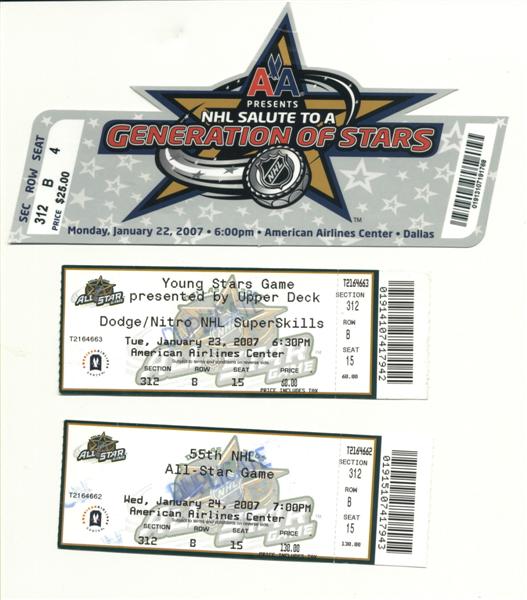 During the events not only did I manage to stand at the side of the red carpet leading up to the front of the building and shake hands with nearly all of the all star player, but I also met 2 of the greatest players in NHL history. Don't ask how I managed it but I did and its a long and complicated story... here are the pics..
6 time Stanley Cup winner.
2 time Stanley cup winner.
My 'Brett Hull' signed all-star 1st period puck. Click for larger image.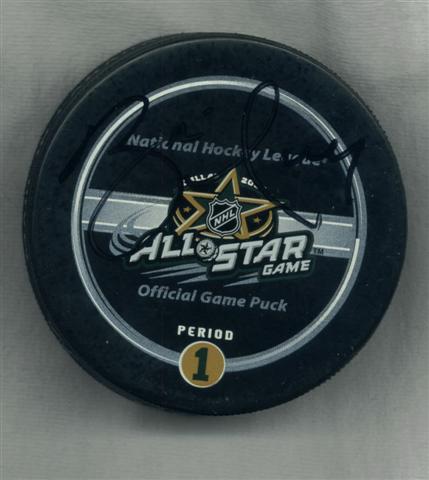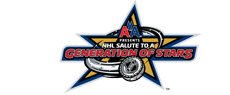 Clicking the image above will take you to the nhl.com Salute to a Generation of Stars page
Monday, January 22nd, 2007 - American Airlines Salute to a Generation of Stars
The All-Star Celebration week kicks off with an open practice featuring both the Eastern and Western Conference All-Stars. This unique event will feature a celebration of recently retired NHL players who helped define the game over the past 13 years since the Stars arrived in Dallas. The event will feature a dramatic on-ice tribute and personal appearances from NHL all-time greats. NHL legends scheduled to appear include: 19-time All-Star Ray Bourque; Hockey Hall of Famer and three-time Norris Trophy winner Paul Coffey; top-scoring US-born skater Phil Housley; 1999 Stanley Cup winner with the Dallas Stars Brett Hull; Hockey Hall of Famer Mario Lemieux; Olympic Gold Medalist and 13-time All-Star Al MacInnis; six-time Stanley Cup winner and 15-time All-Star Mark Messier; Hockey Hall of Famer Larry Murphy; four-time All-Star Joe Nieuwendyk; five-time All-Star Adam Oates and eight-time All-Star Luc Robitaille.
Also the Dallas Stars '99 Stanley cup winners held a reunion. Members of the 1999 Stanley Cup champions will reunite and lead the Cup's procession onto the All-Star Plaza. Click here for video.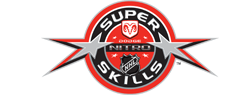 Clicking the image above will take you to the nhl.com super skills page.
Tuesday, January 23rd, 2007 -
Dodge/Nitro SuperSkills Competition and Young Stars Game presented by Upper Deck
The Dodge/Nitro Super Skills competition pits the NHL's top players against one another in separate skill events. Players are asked to put their individual skills on the line in contests like the Fastest Skater, Hardest Shot, Accuracy Shooting and the Shootout.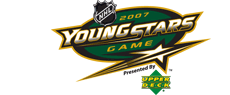 Clicking the image above will take you to the nhl.com Young Stars Game page
The NHL Young Stars Game presented by Upper Deck features the best and brightest young talent from the Eastern and Western conference as they face off in this showcase game.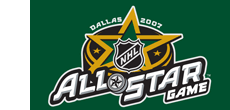 Wednesday, January 24th, 2007 -
55th Annual NHL All-Star Game
The 2007 NHL All-Star game will mark the first time the NHL has hosted an All-Star game since the 2004 game was played in Minnesota. Now the game moves from the North Star State to the Lone Star State. The game is a rare chance for fans to see the world's best players from the Eastern and Western Conference face-off as they exhibit their exceptional talent in person. The 2007 Celebration will mark the first non-weekend NHL All-Star events since Tuesday, February 7, 1989, when the 40th NHL All-Star Game was played in Edmonton. This special event will create once in a lifetime memories for hockey fans. Starting lineups are determined by fan voting. Final All-Star rosters will be announced on January 13th, 2007.
Links to various pictures and articals
http://www.nhl.com/allstar/2007/index.html
A bunch of nice pis from Sportsillustrated.cnn.com
http://sportsillustrated.cnn.com/multimedia/photo_gallery/0701/nhl.allstar/content.1.html
The newest tv ad featuring most of the all-star players. Check out the Road Trip video.
http://www.nhl.com/nhl/app/?service=page&page=NewsPage&articleid=288925
Eastern Conference
Western Conference
Final Score
9
12
Coach
Lindy Ruff (Buffalo Sabres)
Randy Carlyle (Anaheim Ducks)
Assistant Coach
Bob Hartley (Atlanta Thrashers)
Barry Trotz (Nashville Predators)
Lineup
Starters:

Reserves:

Starters:

Reserves:

Scoring Summary

Briere (Heatley, Hossa) 3:38 1st
St. Louis (Lecavalier, Rafalski) 13:07 1st
Staal (Williams, Bouwmeester) 13:43 1st
Williams (Blake) 5:19 2nd
Chara (Briere, Rafalski) 6:29 2nd
Ovechkin (Briere, Souray) 13:32 2nd
Heatley (Briere, Hossa) 2:01 3rd
Chara (Hossa, Briere) 10:37 3rd
Souray (Hossa) 19:25 3rd

Perreault (Rolston, Guerin) 5:08 1st
Selanne 6:17 2nd
Visnovsky (Sakic, Nash) 18:55 1st
Marleau (Cheechoo, Lidstrom) 2:41 2nd
Rolston 8:30 2nd
Nash (Sakic, Phaneuf) 10:40 2nd
Havlat (Sakic, Nash) 11:34 2nd
Perreault (Guerin, Rolston) 12:47 2nd
Rolston (Javanovski) 18:58 2nd
Nash (Sakic, Havlat) 7:12 3rd
Havlat (Smyth, Jovanovski) 18:58 3rd
Phaneuf (Visnovsky) 19:48 (EN) 3rd

Penalties
none
none
Shots on Goal
12-11-15-38
12-16-11-39
Win/Loss
L - Cristobal Huet
W - Marty Turco
Thanks to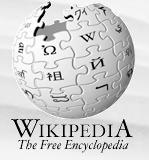 Other pucks in my collection. If you find yourself at a NHL arena could you get me an official puck? They come in a presentation box and must have the teams logo pictured on it.