Scroll down to see whats new. Use the menu on the left to navigate.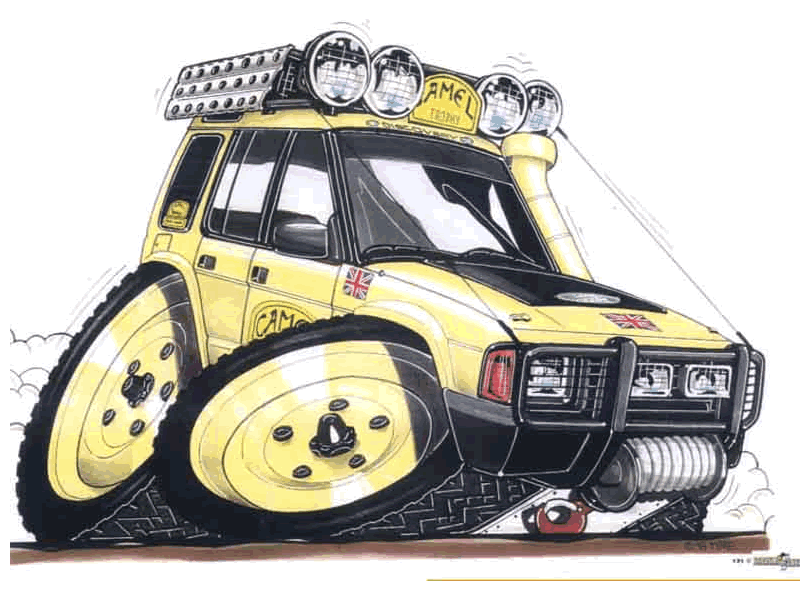 Whats new!
5-jun-08
Sophie cam is up and running. User and pass required. Link on menu to left.
Sophie email up and running. sophie at rikstaboogie dot com
20-Sep-2007
I decided to put most of the pictures over the last week or so into a single album. Click here to see it. The pics are shrunk in resolution to make web friendly. Email me for higher resolution pics.

She is now a week old. Doing well. Feeding every 2 hours or so. She is so quiet its unbelievable. I'm so proud. Amanda is doing well and is keeping up with sleep. I won't lie its hard work..... but it's worth it.

A new menu on the left side
15-Sep-2007 8:02 AM
I'm so tired... its only been a day! I fell asleep at the keyboard last night for a while. Hockey presentation tonight so I guess more pics will be on the way.
I'm not rushing to put them up.

My car has returned. I now have 2x Alpine flip screens to the rear, Multiregion dvd player, video/tv on the move, Ipod and Ipod video, just a few niggles to sort. Chip also returned from being remapped. I need to refit that and test.

Gotta go... DADDY DUTIES!!!!

I think I need a Password protected area on my website if I'm gonna be posting pics of children. For the family and friends to login on. Does anyone know about this?
14-Sep-2007
All is well, we had a few visitors today. Mandy and Sophie are still in the hospital. Click the pics to load them in a bigger window.
She's so cute!
14-Sep-2007 2:06 AM
At 23.23hrs late last night our first daughter was born weighing 7lbs 12oz. Her name is Sophie Louise Smart. Yahoo! Mum and baby are doing fine!
Oh, by the way... Happy 10th Anniversary Mandy!
Click on pictures to open them larger.
Ummm... other news,
My Disco is in at Accutek later on today for 2x flip down screens in the rear, a dvd player (multiregion), Ipod connections (inc video) etc etc...
09-Sep-2007
Hmmm, another 6 Months has passed by.
I've had a job change, same company, different post. I was doing 14 hr days for many weeks. Computer broke. Hopefully thats sorted now.
I've not driven my Rangerover since last November. It needs both sills repairing and a MOT. It could also do with a new set of tyres. I will get it back up together. I took down all the garden sheds in favour of 1 big new one sat on a decent concrete base. That is still work in progress. Then I'll start on the rangie.
Hockey has started up again and I feel very fat and unfit. Ankle is sore so I'll take it easy. Presentation evening is next Saturday.
The Disco 2 has gone in favour of a 2007 Disco3. Black outside with black leather to make a change. Chip and goodies to follow.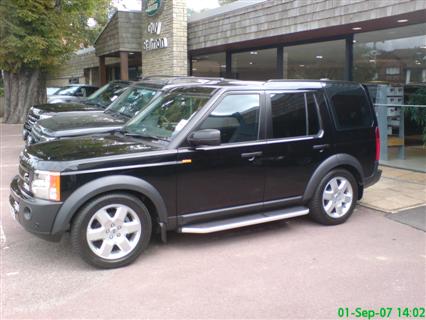 I have hundreds of pics of stuff that has been going on over the summer, only I struggle with time to sort them into albums.
I need software to do this for me!
If you know of any please let me know. I was hoping for a redesigned website a while back but I don't think it will happen. I put a page up on www.facebook.com. or CLICK HERE to go straight to my profile.
And, last but not least, I'm gonna be a daddy! Yup, in a few weeks/days the wife is gonna give birth to our first child. She has had an awful time over the last 8 1/2 months. She has thrown up non-stop, been in hospital and generally been unwell. Anyway the end result should be worth it..... I can't wait.!
17-Feb-2007
After a few months of hard work... a job change and ankle recovery I'm pleased to say that I'm gonna try and get on top of this site. I have just prepared the newest page
Showing odd ends of my time in Dallas back in January. Be sure to check out the 2 hockey ledgends that I'm pictured with.
As for the off roading. Well.... the rangie is still going. It needs new tyres and the main-body side mounts need repair and welding. I do intend on doing this and getting back into driving. The other guys are still venturing off out and having fun. I hope they'll send me some pics and I'll get my butt in gear and start posting again.
Check out Wikipedia. It an online free encyclopedia. If you research the 'Bobtail Range Rover' you will see they make mention this site as a reference!
Cool eh? :-)
A small album has been uploaded of Baz taking my stitches out from my keyhole surgery.
21-Dec-2006
Yesterday I went in for a small operation on my ankle. This time they have drilled some bone away to give more movement and less pain.
More pics to follow when stitches come out etc. Crutches... again!
Happy Christmas.... bah humbug!
Album link is here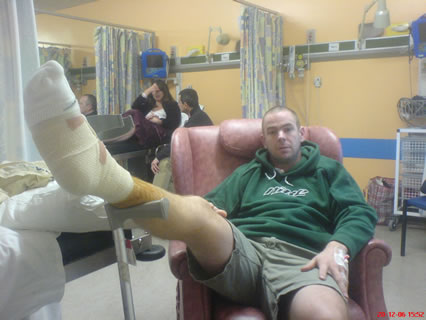 27-Nov-2006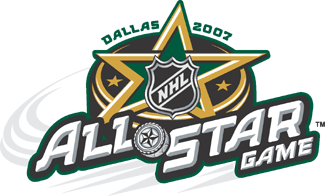 I HAVE TICKETS!!!!
(to all 3 events)
Yaaaaaaaaaaaahoooooooooooooooooo!!
2007 NHL ALL-STAR GAME
Monday, January 22nd, 2007 -
American Airlines Salute to a Generation of Stars
The All-Star Celebration week kicks off with an open practice featuring both the Eastern and Western Conference All-Stars. This unique event will feature a celebration of recently retired NHL players who helped define the game over the past 13 years since the Stars arrived in Dallas. The event will feature a dramatic on-ice tribute and personal appearances from NHL all-time greats. Players appearing will be announced at a future date.
Tuesday, January 23rd, 2007 -
Dodge/Nitro SuperSkills Competition and Young Stars Game presented by Upper Deck
The Dodge/Nitro Super Skills competition pits the NHL's top players against one another in separate skill events. Players are asked to put their individual skills on the line in contests like the Fastest Skater, Hardest Shot, Accuracy Shooting and the Shootout.
The NHL Young Stars Game presented by Upper Deck features the best and brightest young talent from the Eastern and Western conference as they face off in this showcase game.
Wednesday, January 24th, 2007 -
55th Annual NHL All-Star Game
The 2007 NHL All-Star game will mark the first time the NHL has hosted an All-Star game since the 2004 game was played in Minnesota. Now the game moves from the North Star State to the Lone Star State. The game is a rare chance for fans to see the world's best players from the Eastern and Western Conference face-off as they exhibit their exceptional talent in person. The 2007 Celebration will mark the first non-weekend NHL All-Star events since Tuesday, February 7, 1989, when the 40th NHL All-Star Game was played in Edmonton. This special event will create once in a lifetime memories for hockey fans. Starting lineups are determined by fan voting. Final All-Star rosters will be announced on January 13th, 2007.

Click here to go to the Dallas Stars NHL website.
Click here to go to NHL.com
19-Nov-2006
At last a day out. Last weekend the guys were in Wales at Seven Sisters. They had a really good time and I'm hoping that pics will follow. Today we were at Bunny Lane with Shire LRC. After about an hour I broke a halfshaft and jumped in with John. Paul and Andy/Eddy were also there. Submersible landys was the order of the day.
Pics here bunny_lane_19_11_06. Also click on any of these pics to see a larger image. Use your browsers 'Back' button to return.
Andy made it across all of these crossings. He got soaked!
I'm not sure when the next outing is but I am looking forward to the 'Ice Rink' that is being temporarily constructed in the Cathedral grounds.
A link to the cathedral website is here
02-Oct-2006
It has been AGES since I've done anything. So much has happened and I just never seem to find the time to update anything. We've just got back from Texas, USA. John & Ann came along this time and they had a wonderful time.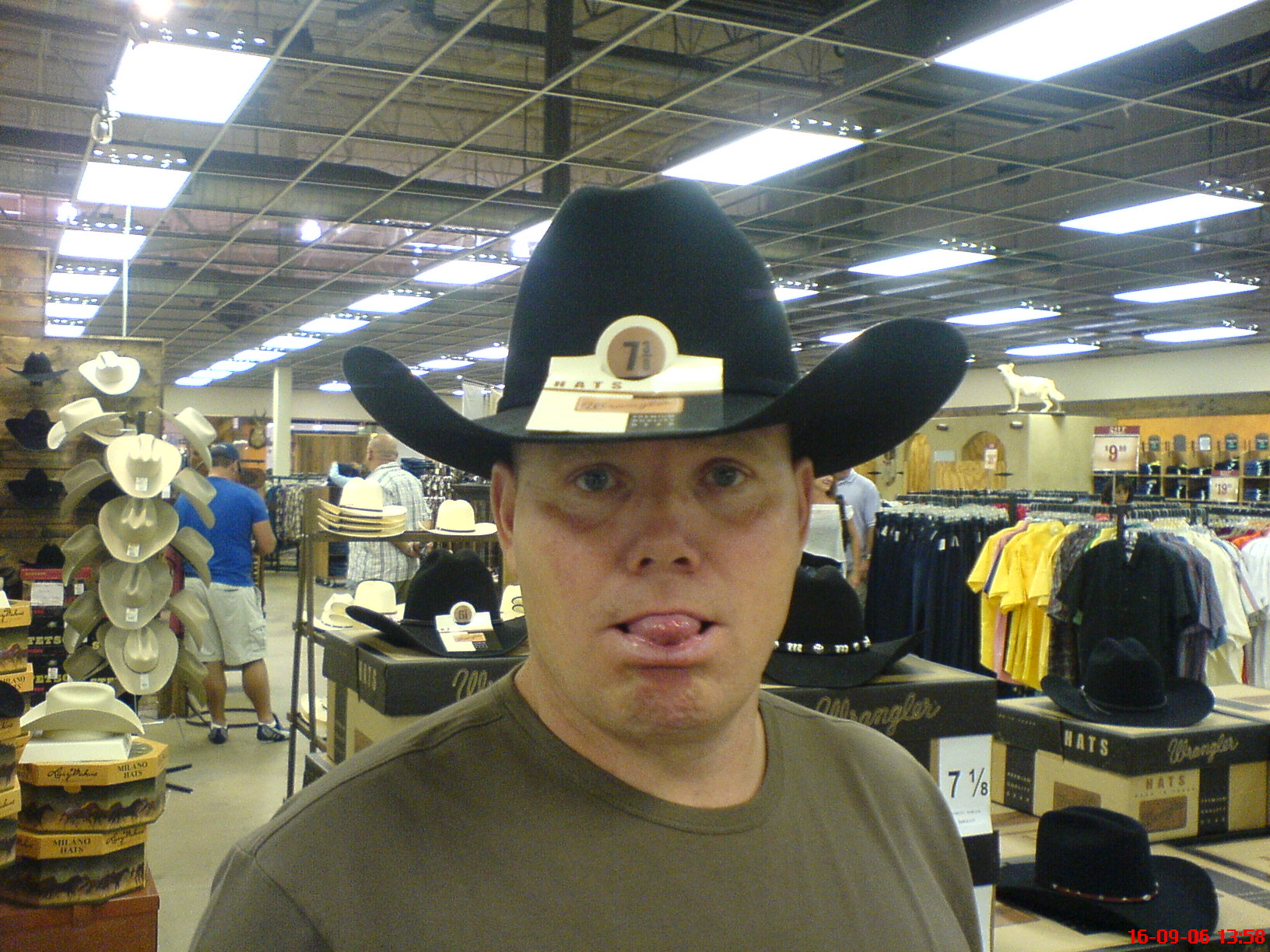 I really need to make an effort to catch up on stuff and hopefully this week I'll get some pics up n running and have www.rikstaboogie.com back on track.
Lets start with Andy's pictures from the other week when a few of them went off to Slindon.
There are loads of things that need doing. If anyone has any requests or have updated pictures for the 'Meet the guys' section then please Kick my ass and send my those pics.
08-Jul-2006
I've put my old car headunit up for sale on ebay. Click here to view it in a new window. It plays cd's, Mp3's etc. Also it has a bluetooth handsfree phone kit built it.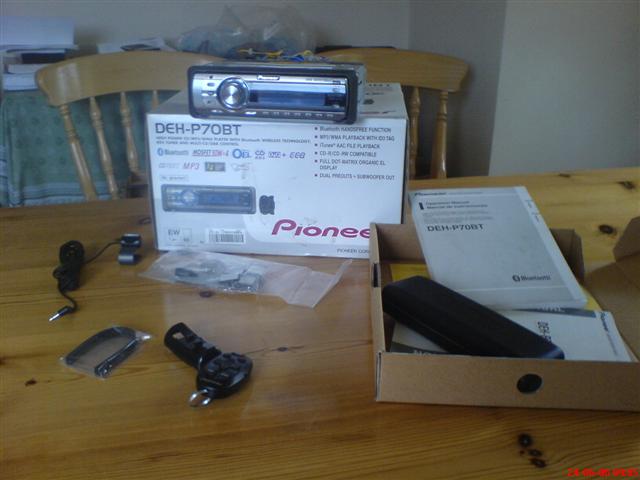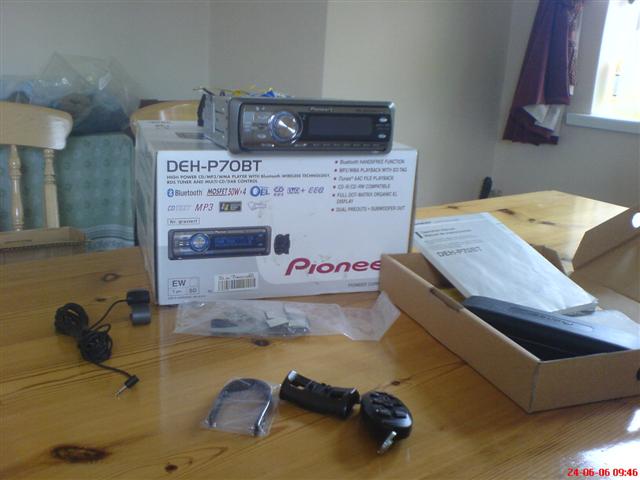 02-Jul-2006
Hockey 'Presentation evening' last night. I'll post the pics when I get them. I recieved another trophy for 'players player'. It's very rewarding when you are voted by your peers. Thankyou to all the guys at 'Winchester Kings' senior team.
Lee H now has a Disco. His pic has been entered into the 'Meet the guys' section.
29-Jun-2006
Last weekend we played our Senior Hockey Tournament at Applemore. I'm not sure where we came in the final results/tables. We never won the cup.
Heres a few pics. 2006_tournament
23-jun-06
At the weekend just gone, John and Paul were invited to attend a winch challenge. I'm still waiting for pics.. and John came 2nd... Well Done!!!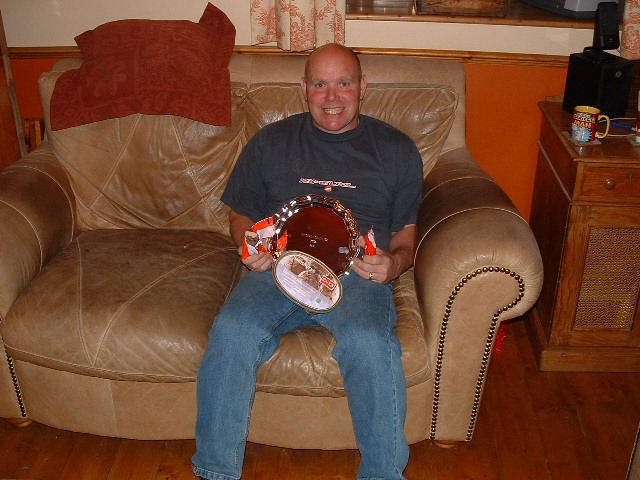 4-jun-06
Andy now has his own website for his Truck Servicing Buisness. Click picture to enter.
01-Jun-2006
A successful weekend in Wales with SADLRC. John, Andy, Paul and Myself took our cars and Lee, Ben and Eddy came along as passengers. We left at about 3.30 ish. After a long drive we arrived safely and made camp. First thing Saturday morning we met Bernie the site owner who gave us a quick rundown on the site rules etc. I think about 17 SADLRC member cars were there for the weekend. The plan was to stay together for a while then disperse. The staying together lasted for all of an hour before we slipped off and found some more 'extreme' stuff to tickle our fancy's. It rained most of the day on Saturday but dried up for Sunday. I struggled all day on Saturday whilst the others appreciated the Symex tyres. Sunday was a good day. Breakages… well, Andy did a half shaft. I did an alternator. John broke his winch and Paul survived quite well. Eddy rolled the 'Happy Shopper' (blue rangie pick-up type thing!) and John put his on the side. As for the site, I would recommend it to anyone. It is well maintained and run by Bernie. The club (SADLRC), was well run and the guys were very chatty and friendly. This was my first outing with them.
So, a big 'thankyou' to both Bernie at Tuff Terrains and the guys at SADLRC for putting on a great weekend and we all look forward to being invited again….

2 albums. Pauls pics taken with his camera and my pics extracted from my 8mm camcorder which by now has really seen better days. I also have about 2hrs 15mins on dvd(s) which will be available very soon.
BTW..... I NEED A NEW CAMERA!!
29-May-2006
We survived 'Tuff Terrains'.. Pics and DVD to follow...
20-May-2006
Big Brother 7 has now started. Paulie and I have a small wager. Click here to see the inmates.
Off roading in Wales next weekend with SADLrc. I think it is called 'Tuff Terains' more to follow.....
05-May-2006
Lee broke down.... Rik to the rescue. My new disco's 1st job..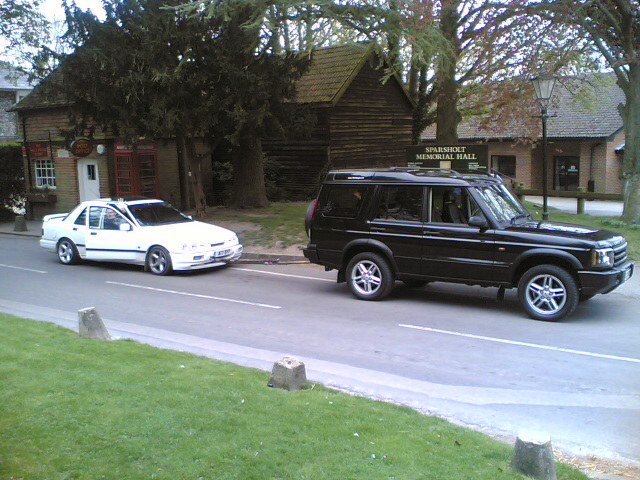 Also I'm thinking of moving to my new abode... the rent is cheap.... click here
Paul's pics have been added to 'Meet The Guys' section
01-May-2006
A few more pics added to the 'Meet the guys' section.
28-Apr-2006
New menu.

Meet The Guys.

A collection of pics of cars and trucks with the 'rikstaboogie.com' sticker stuck on somewhere. If you have a sticker and you are'nt included yet, let me know.
The other week the guys went to Bunny Lane. Here are the pics. They are a mixture of Andy's, Ann's and Waynes.
06-Apr-2006
Check my ebay items for sale. I usually have something new each week. This week, ending tomorrow evening, I have a 'SnapOn Clock' (BNIB) and a 'Nokia 6680' cellphone which is like new. My user name is 'rikstaboogie' and you can direct link to my items for sale here.
The guys went to the 'Slab'@ Bordon last sunday. I think it was a shiney (newbies day out) driving day. Nevertheless they had fun... check the pics here....
Other news...
Frosty has been having fun in his car... 1st he filed it with petrol. About 50 quids worth needed to be drained out (John's happy).

Then, a few days later, as he was reversing back he somehow hit his nearside wing whilst turning. ooops!!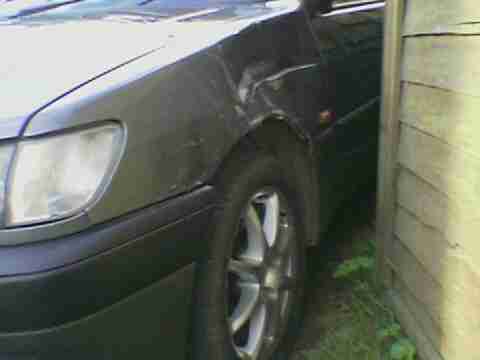 25-Mar-2006
Its been a while again. At long last the addition of a calender. This is basically showing whats on with the various clubs in and around our area. Please check with the relative club websites for verification on dates and times. Thanks to Andy for the info. Sorry its been so long in posting.
Sodbury Sortout is on 1st April at Newbury Showground.
Also Andy has supplied a couple of pics of the last outing at Bordon with wessex. I've been healing in Texas, USA whilst the guys have been out playing. I hope to be back on the road soon. In the meantime pics etc to the usual address. Guess what Johnny did..?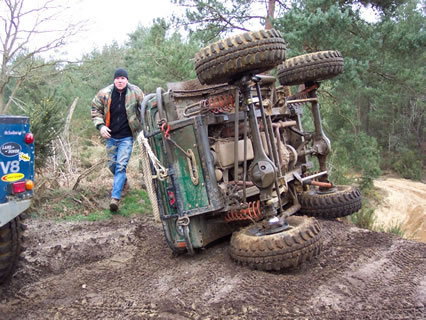 I have no idea as to what has happened to the guestbook. It was a freebie i bumped into somewhere on the net a few years ago. It has now vanished so I will start looking into a new one. Links on the menu to the guestbook have now gone.
15-Feb-2006
Check this workshop out....
http://www.ultimategarage.com/UltGar2y.htm
just keep scrolling down then go to page 2.
11-Feb-2006
I have, for sale on ebay, one of these fine clocks...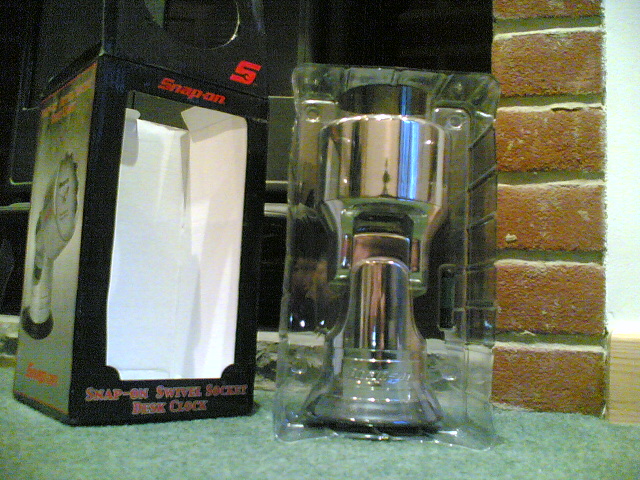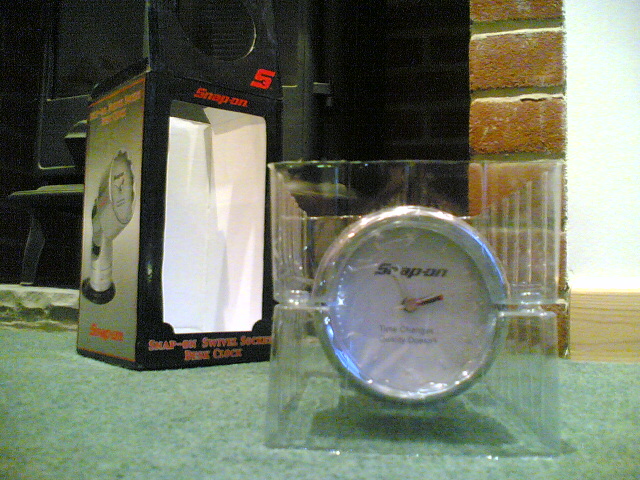 Find out more by clicking this link
04-Feb-2006
A quick change to the last offroading album. A addition of more pics. If your browser doesn't show all the pics the hit F5 (Refresh)
29-Jan-2006
I'm so on the ball this week! Another update...
Andy, Gary, Paul, Wayne and Lee spent the day at Slindon last sunday. I think a few of them broke odds n ends. Nothing serious. Thanks to Andy for the pics....
28-Jan-2006
Changes to the menu on the left. 'My Broken Ankle' is the heading with a clickable submenu containing 3 new albums of the last few weeks events. Take a look to see what they did to my ankle this time. My next check up is on the 24th Feb.

Last weekend some of the others went to Slindon offroading. I think it was a bit of a trail run for the 'winch challenge' that they have entered themselves for. From what I hear a few of the trucks now have broken parts so I guess it was a good day!
As soon as I get full details of dates and venues of upcoming events etc I will post them. Maybe someone could update me...?
26-Jan-2006
Been in, came out. Broken leg again. I didn't all go to plan but oh well. They did a bone graft etc. Thats painfull enough. The rest will follow... I hope.
Tomorrow (friday), I have an appointment at fracture clinic to have my stitches out and new xrays etc..
A bit late but this was me in hospital...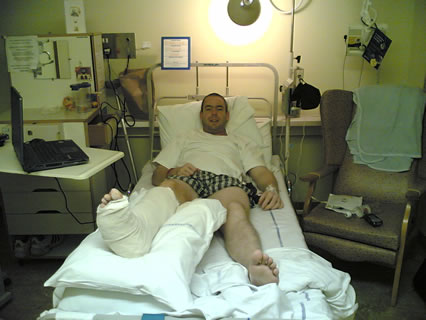 17-Jan-2006
Tomorrow is the big day.....
In the meantime, what do you do with your spare time? Send pics to the usual..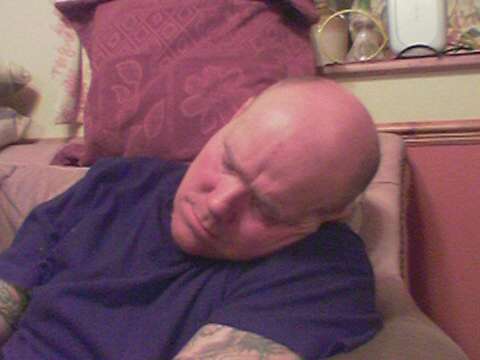 Hehehehe... 'Mr Horizontal'
14-Jan-2006
3 days to go.... :-s
Bunny Lane this sunday coming.
I've just upgraded my Sky+ box. A normal Sky+ box (the first one) comes fitted with just a 40Gb drive, allowing for around 20 hours recording. I've done 250Gb upgrade allowing around 120 hours recording time. Not all boxes will take the upgrade. I have a list of serial numbers that will tell me what's what. I've done this for less than £100. Bargin. Contact me if you are interested in having yours done.
02-Jan-2006
Happy New Year.
A few of us went to Lee's house in southampton to see the new year in. I got a little tipsy on the red wine. It was a great evening.
Plenty of offroading coming up soon. watch this space!
15 days to go untill my operation.
26-Dec-2005
I hope it went well for you all....
A small update in the Hockey section. At last i've sorted the previous pictures that have been sent to me and posted them. Access them from the menu on the left.

I think the next outing is on the 15th at Bunny lane with Wessex Hillrunners. Let me know if I have it wrong. Dunno if i'll make it as I'm in for my operation on the 17th Jan 2006. Whilst I'm out of action I'm hoping the guys will forward their pics so I can keep the site updated.
Happy New Year!
24-Dec-2005
HAPPY CRIMBO! (Bah humbug....)
01-Dec-2005
World Aids Day Today.... (Click ribbon).

28-Nov-2005
Life is so unlucky at times...... news coming soon!
Anyway here are Marks pics from the other sunday at bordon. 20_11_05_bordon_slab_jeep_mark
As for this sunday just gone... Everyone went to Sommerley Estate. Well, John, Paul, Andy, Lee and Wayne. Gary had no truck. I never went :-( Its been a year since they went last. A good day out. Andy took loads pics. 27_11_05_somerley_andy
24-Nov-2005
A day out at a different Bordon site. These sites are owned by the army. Only the larger clubs have access to them. Luckly The Jeep Club offer limited places to The Wessex Hillrunners. We take full advantage of this and thank both the clubs for the invites. This is the 2nd event that we have been invited to. It turned out to be another great day. Gary never made it due to running problems. I fixed the few problems I incurred from the previous event. Johns truck with its modifications is now back on the road. Welcome back to Mark, who has finally got his ass into gear and is back on the road. Andy has now been informed that he is offically titled "Events Manager" Haha. Thanks also for taking the days' video. Also welcome to the few new passengers for the day... I had my wife's cousin 'Zoe' and Mark brought along his niece 'Vicky'. They both had a great day and we hope to see them again soon. Those that took pictures of the day please forward them. Pics from my crappy camcorder are here. 20_11_05_bordon_slab_jeep
Marks pics to follow soon. Anyone else have pics?
09-Nov-2005
A very wet day at Bunny lane with Wessex Hillrunners on sunday last. Johns truck still aint ready. He took the disco again. Gary was overheating before he started. This was due to the 'Carlos Fandango' water pump fitted having an air lock. Both Gary and Lee have now fitted their radiators up high behind the cab. Lee's works great with no problems. Lee also broke another halfshaft! Andy has taken some great pics. You can see his album here. 06_11_05_bunny_andy He's the one with the bobtail... the other bobtail... not my one! My pics are here 06_11_15_bunny_lane_wessex. Sorry they are so blurred. The rain was pouring, the camera is not digital.... The dvd should be another good publication.
I've also been collecting pics of other bobtail rangies. I'll create some more albums soon.
Next outing is on the 20th at 'The Hogs Enclosure, Bordon' by invite from The Jeep Club through Wessex Hillrunners.
30-Oct-2005
Last weekend we went to a new site at Bordon. The Wessex Hillrunners were offered limited places by The Jeep Club. It was an excellent day. Andy started with a puncture. Lee bent his track rod. Garys truck wouldn't start half way through the day. John used his disco as his truck was still in bits from the rollover. I survived quite well. Next week Bunny Lane.
25-Sep-2005
Those that were at the SADLRC Bunny Lane day today may have taken pictures. If you have I'd love to see them and hopefully make an album. Email them to me via the contacts page. I guess todays idiot is...... John Piper
18-Sep-2005
Today I'm on the ball.. Pictures are ready!! We went to Bunny Lane as Shire LRC were holding a 'Punch Card Challenge'. A small write up on the album page. Look out for the latest edition to our group... BRUCE (Paul)!!
Todays idiots... Paul for forgetting to use diff lock? Frosty for forgetting how to use the gearshift (locking it in reverse)? Or maybe John who drove over his wheel chock after jacking his car up to check the halfshaft? Durrrrr!
17-Sep-2005
At long last, the Brick Kiln pics are now sorted. Tomorrow we are off to the Bunny Lane Challenge with SHIRE LRC. At present, we are starting to hate the SADLRC. Click on the album to find out why.
21_08_05_brick_kiln_shire
Also, whos the idiot??
Is it Dan for not putting his Daihatsu into FOUR WHEEL DRIVE and then thinking it's broken??
Or maybe Paul for not taking good advice (even if it was from me) and backing off the throttle a little when pulling '2-wheel-drive-Dan' outta the hole and breaking the rear diff etc... ??
Maybe I need some sort of voting buttons... hmmm
Our thoughts and prayers go out to the families that have been caught up in the Hurricane Katrina Disaster. Please, if you can, donate a few quid at http://www.redcross.org.uk/49121
Don't forget to tick the gift aid box so the tax man will pay his bit!
20-Aug-2005
Pauls page has been added here PAUL
06-Aug-2005
Last weekend we went to Bunnylane (again). Not that I mind as its easily my favourite place. A new front propshaft has been fitted to my rangie as the old one would not expand or contract. Also the other wednesday I was in hospital for a 'Wedge resection' on my right big toe and 'Ankle Manipulation'. Jeez that hurt... if you dont like open wounds dont click HERE. Anyway, I got my car fixed and drove it around the block. Because I hurt too much I parked up and went along with John. Another excellent day was had. Lee1 (Hall) arrived at about lunch time. Lee2 was having some maintaince problems... broken stub axle and dodgy fan switch. Nothing that wasn't easily rectified. Pics are here 31_07_06_bunny_lane_sad. If any of you have photos of John resting on the back of his car please email them as I'm looking for a higher quality pic than the ones I already have. Also small video should be available soon when I can suss out the upload and download bit. (I'm sure its not rocket science!).
Hockey pics from the tournament are online... click here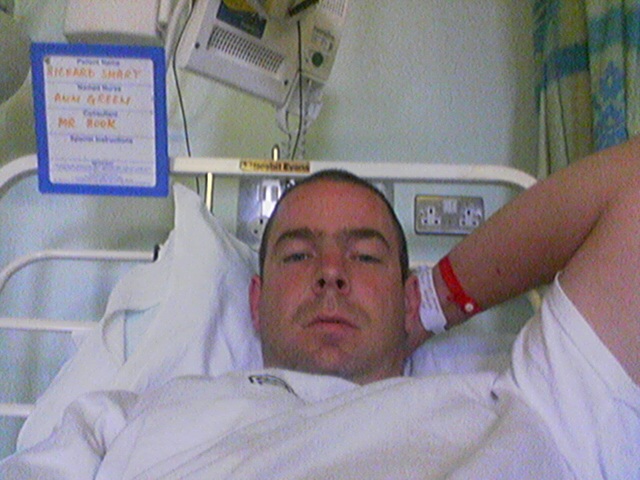 17-Jul-2005
Sorry its been awhile, Pics of last sundays outing are up. It was a day of halfshaft breaking. Except John. Lee H was first to break. I snapped the front shortside not long after. I raced home with it and came back shortly after with the Disco is the trailer was not available to bring both at once. Lee H went home. When I returned the other Lee was just changing 2 rear halfshafts. Later on both Gary and Wayne broke halfshafts. The day was great as usual, Bunny lane always is in my opinion. It was nice to see Mark again and hopefully he will get off his ass and fix his rangie so he can join in the fun properly. Lots of pics to see...
10_07_05_bunny_lane_shire
To return to this page you need to use the back button or the menu to the left.
09-Jul-2005
I got the mud tyres on the Disco..... The rangie is running well.... John has NEW tyres on his off roader... His Disco is up n running... See ya at Bunny Lane tomorrow!!! I gotta go now as i'm off to help get Lee's bobtail ready for tomorrow.
14-Jun-2005

Minstead on Sunday was a great success. Myself, John and Lee were there. Pics are now up. 12_06_05_minstead
11-Jun-2005
Minstead with Wessex Hillrunners tomorrow 10 am start.....
Also... what have the others been up to...?? www.j33p.org or the bit relating to Wayne etc... (hehehe) Waynes Bit
05-Jun-2005
Found this... made me chuckle...."Computerizing your old Land Rover" Fill it in and have a giggle!
21-May-2005
Last weekend we ventured back to Bunny Lane for yet another great day out. Frosty's car is still broken. Wayne was not there. We, on the other hand, had a great day out. Paul loves me again after the teapot incident.
Check the pics.... 15_05_05_bunny_lane_shire
26-Apr-2005
Bunny lane pics are done. 24_04_05_bunny_lane_shire The dvd of the last few events is almost ready. Sundays pics aren't a patch on the dvd. Who nearly fell over??? Errrr John, Wayne and meeeeeeee!!! Gary wasn't far either.
Next event is Bunny lane again on the 15th May.
25-Apr-2005
A great day at Bunny Lane yesterday.... Pics and DVD are being sorted and will be posted soon......
22-Apr-2005
Anne's pics of the other weeks event with Shire are available here. 03_04_2005_minsted_shire_anne
Check out the 'For Sale' page... My series and the V8 auto rangie are up for sale..... New details and a pic available.
08-Apr-2005
Rangie failed MOT yesterday on Panhard rod bushes, track rod end, Split in exhaust pipe and wheel bearing. All except panhard rod bushes I knew about. Parts on order. Also coming available soon a White rangie 4 dr (Y reg 82 ?) v8 auto on irish plates for sale. I am in the middle of changing a leaky fuel tank. I will MOT it. I rekon a £700 start price. Its quite clean and tidy, NO DENTS, a little ally corosion. A bit of rust on the underside of doors. Steel wheels, good tyres,silly vinyl roof quite clean and tidy inside. Not been ran for a year or so. Call or email me for more details. Pics available when I get a camera up together.

Pictures from last sundays disaster day are up with a few more to follow (the better ones!). 03_04_2005_minsted_shire

John had a reasonably good day. Paul sank and filled his bell housing with crap thus rendering his crutch (clutch) useless. I had overheating problems due to lack of viscous fan. Frosty had other things on his mind.... (Syan is a lovely chick!). Wayne seemed to survive ok.

02-Apr-2005
Last sundays pics are here at last... 27_03_2005_bordon_awdc
01-Apr-2005
I'm a little behind with everything. Bordon pics from last week are on their way. Sodbury Sortout tomorrow. Brakes now fixed as pads have seen better days. Ready for sunday. Minsted with Shire LRC.
18-Mar-2005
Today was my appointment with the out-patients fracture clinic at the hospital. Basically yet another month off. Physio will start soon. Not sure when the next offroading day is. I'm guessing "All Wheel Drive Club Day Slab Common" on the 27th March. See you there??
SERVER CHANGE.
You may want to rewrite your bookmarks. Sorry for the 'downtime' in website! Should be all good now. I'm being hosted on brothers server and I plan to stay there.
March 13, 2005
Yesterday, John and I went to the All Wheel Drive Club (AWDC) fun day at Sidbury Hill, next to Tidworth. Mark joined me for the day as a passenger.
We arrived quite early and signed up. The marshal/money taker told us to stay within the large 'race course boundry' as they were setting a course for todays race's. Also the large hills were out of bounds. We were dissapointed as this was the main reason for coming to this site. Any area within the boundry was ok to play on. Off we went.... within a few gear changes a Jeep rushed over to tell me off for driving to fast. 'Ok' I thought, John stated that they were much stricter than other clubs. Fair enough I thought. A few moments later whilst playing on some concrete lumps, another Marshal came over and told us we couldn't do that. Errrr ok... off we went agian to have a cuppa tea. Whilst talking to some other Marshal he couldn't understand why we got kicked off the concrete. We sat a while longer watching a few of the racer's arrive and speed off much faster than I was earlier. *confused* Didn't see anyone tell the big boys off!! Off we went to explore another part of the site. We came across some hills of which a few people were driving. Not many. A marshal stood at the top watching over. I went down and turned around. I called up to see if it was clear to go up one of the other slopes. The marshall waved me around the slopes to climb a small hill to the side. "Whats wrong with going up?" I asked.. Jobsworth told me we wern't allowed because everyone HAD to go down. I looked around and said "where is everyone?" He agreed and said that if we were quick we could come up one of the slopes. I asked if my friend could have a go also. He looked at me strangly but agreed. Not much else to do here so off we went again... We found some hump like things that were asking to be driven over the wrong way. After about 10 mins a range rover pulled up in front of us. I did think it was about time we were told off again as it had been almost 1/2 hour! The fella, whom I cannot remember his name, was actually the 'Clerk of the course'. 'Ewww this is the top dude'. After along chat with him he came to the conclusion that we wern't really doing any harm and carry on. As to the concrete, go on it.... Have fun within the center arena as the first guy told us.
Off we went with half a smile on our faces. We had been told by the big boss what we could and couldn't do. We arrived at a secluded spot and started to make new tracks. In our opinion we wern't doing anything wrong. Jobsworth from earlier turned up saying we wern't to stray off the mud tracks. We wern't insured. We explained that we had spoken to Bigg boss dude and he had no problem with us straying off the beaten track. Jobsworth wasn't having it. We moved on. I bumped into the nice marshal fella and said we had just been kicked off stuff that big boss said was ok. He said he would sort it. I told him we were moving on.
I was feeling pretty fed up by now.
Whilst scooting about looking for stuff to do, we bumped into Bigg boss again. He said he was gonna open the big hills for 1/2 hour. Great!! We played there and moved on again. Because most traffic had moved to the hills we chose to scoot back to the first hills where 'jobsworth' patrolled. No-one was there. We went up n down at will. We then went to the other place were 'jobsworth' kicked us off, to find a few others had found our made tracks and were playing happily. We continued here for a while and made a few more. Over to the concrete again and then off home.
All in all a good day slightly spoilt by, in my opinion 'uneducated Marshals?' that did'nt quite know what was what.

pics here 12_03_05_sidbury_awdc
01-Mar-2005
On the 27th Feb 2005, we all went off to Slindon (John Morgan Site). Eddie's clutch master cylinder had a mishap on the way so he went back and fixed it and joined up later. John got to my house and we both went off to meet Gary and Paul further on down the road. Wayne was already at the site. From what I gather, Gary and Wayne are Pauls friends. John has got to know them alot better since I broke my leg and they all seem to meet up for events. They seem nice enough. The more the merrier I say!! Anyway, Paul seemed to drop to 2 wheel drive shortly after arrival and Gary broke the rear 'uj' thus deeming him 'broken' for the day. Gary jumped in with John. Paul drove about and parked up and took on the camcorder job! My camera is playing up so all the pictures are taken from the DVD that I have made of the day's outing. Plenty of pics... click the link!
20-Feb-2005
ok, again it's been awhile.... The leg is slowly getting better but is still quite painfull and swollen. The good news is I can drive, which means the Rangie comes out of its dormant state. The cobwebs have been blown off, £50's worth of fuel has entered the tank.... We've been out playing today!!! (John, Eddie and Myself). During my 'healing' period Johns off roader has had a few problems. So don't mention the gearbox, or the engine, or the carbs or anything else!!! Today was a tester for both of us. Johns engine/gearbox is now running well. My leg held out and my rangie is fine. Dan joined as a backup in case summit happened and I needed help driving. Eddie and Mick.... well, they are just themselves and all is normal (crashing into the odd tree etc...).
Oh, ask Eddie if he knows a good 'Diesel Specialist'. HAHAHAHAHAHAHA
29-Jan-2005
Last Sunday Jon went to Slindon. His usual offroader is feeling a little sick at present. Look out for the 200tdi disco!!!
23_01_05_Jon_Piper_slindon
20-Jan-2005
Still healing, although I have just started to put weight on my foot now..... only a little. :-)
Getting severe withdrawal symptoms..... missing my toys now.... :-(
11-Jan-2005
Not much change really, been to the USA over the holidays. It was as ok as it could be. A doddle to get through the airport security, because of the line jumping technique that airport assistance provide! More x-rays and a newer bulkier plaster (fibreglass cast) today.
The first few pics of the x-ray held up to the window are of my original break back on Nov. 7th last year. As you click the individual thumbnails and they open as a larger picture you will notice that once you scroll or click to picture DSCF0009.jpg it will open in a higher resolution. This is today's x-ray still showing the severity of the break. You can see the cloudy 'fuzz' around the breaks. This is new bone forming and fusing the bones back together (so they tell me). The angle of my foot to my leg has also been changed as you can see later on in the album. The new problem I have is that my Achilles tendon has gone 'tight'. So after some good 'ole brut force (and a lot of pain), my foot has come up a little more. Not the 90° we were hoping to get. I can now start to put a little weight on it. For example, I can stand and shave or wash up (not that the latter will happen!). Another 4 weeks 'till the next episode.
As for the other guys, if I get any pics of any outings, I'll put them up!
Happy new year by the way...

03-Dec-2004
2 albums the first is the most recent one with The S.A.D. club 28_11_04_sommerley_estate_sad
Second one is Jons album for the other week 14_11_04_minstead_shire_jon
Both these albums wont contain me for some strange reason :-(
01-Dec-2004
World Aids Day Today.... (Click ribbon).

Ho Ho Ho.... only a few weeks to crimbo!
Over the next couple of days I will be putting 2 albums up of previous events (I didn't attend for obvious reasons!) I have all the pictures etc.
15-Nov-2004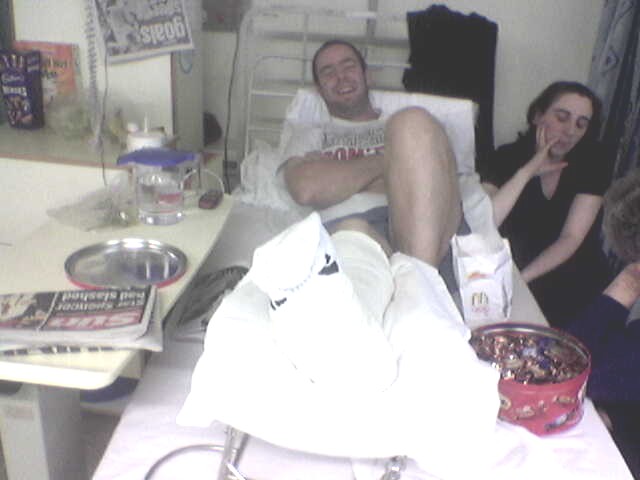 Can ya guess what the bad news was..... :-)

Whilst playing hockey the other sunday I twisted my ankle. On hearing it snap and the pain involved I realised I actually hurt it. The ambulance arrived. They got splinted and gassed me up then put me on their wheeled stretcher-bed and took me on out to the ambulance. The ambulance wouldn't start!! We waited another 10 mins or so for the next one to arrive and then after swapping me onto the other stretcher-bed we drove off up to A+E at hospital. After a good dose of morphine and a bit more gas 'n' air off to x-ray. It seems I have an "unstable spiral Fracture" to my fibula and a normal fracture to my Tibia. I was staying in. They thought they would have to operate on tuesday to pin and plate my ankle but it seems that it is not so "unstable" after all. After alot more drugs and fluffing around they finally released me on friday morning. I aint doing nothing for a while!
Anyway, John has been out so I should get his pics and a story for the day out.
People have been asking about how Johns car was built etc so I'm gonna have a section dedicated to the build of his Rangerover/suzuki 84" thingy!!! It should turn out quite good as he has been through all sorts of hardware! (engine upgrades/tyres/winches/ add-ons etc). I gotta scan aload more pics. Not long to wait I hope. Various pics are already available throughout the website.
14-Nov-2004
Well, again, its been awhile. I haven't done much in the last month. The rangie rover is up together and ready to go. The series has had its canvas removed and hard top put back on for the winter (Roof Change pics). It is also for sale although I am not rushing to advertise it. See For Sale.
Just for a laugh I have included a couple of pics... Wheres the cat gone?? This is my neighbours cat who like to keep an eye on the place!
The diddybikes section has kinda started.... a few problems... but soon it will be better. And now the weathers is turning.... I don't know.... it gets worse! Take a look.
Now for the bad news..... Once the pics arrive the bad news will be told......
26-Sep-2004

Check out new section coming soon...... DIDDY BIKES!! (mini motos and suchlike)
2 new albums. 1st one is of Mark and Nicks day out with Wessex Hillrunners at Prews Hanger near Denmead.
19_09_04_Marks_Pics
2nd is of Eddie and John. Minstead's site (new one). I'm not in either of these albums.
05_09_04_Minstead
11-Sep-2004
Not much going on, John has been on the slab because of his poorly well 'down trodden body'! (shoulder). His suzuki got cooked at the last meeting he went to (I didn't attend). Eddie has no brakes! I spent time replacing my windscreen wipers and took out/flushed my fuel tank. Next day out is the 19th Sep. (I Think).
07-Sep-2004 Goto the links page to click on various other sites. Difflock.com and a few others have been added.
01-Sep-2004 Eddies friend came over from Ireland. A quick outing just to show him what we get up to. After 1/2 hour we returned to Eddies workshop to fix an oil light problem. John's monster is dead (fuel problems) ummmm other than that... a few pics. 29_08_04_green_lane_Conner
29-Aug-2004 Last week we decieded to go green laneing as we were kinda not wanted at a certain club day. (say no more). Anyway.... we had a good day.... Lee left us early. Highlights of the day were my nearside front wheel nuts coming undone... "I thought it was making strange noises and wobbling a bit!" Ha ha ha. 22_08_04_Green_Lanes_Brick_Kiln
Another green laneing day today, pics to follow.
25-Aug-2004

At long last I've bought some webspace and a domain name:
New email address also. Hopefully this will be faster and easier to use. More changes to follow


13-Aug-2004 Green laning with Plumberman Paul. Somewhere near Salisbury... errr we could of been anywhere!!!! 08_08_04_Green_Lane

31-May-2004 ummm.... 3 new albums are now up. Last week's Bunny Lane in Romsey 23_05_04_Romsey_shire. I turned up at about 2pm as I had a hockey match in the morning. The sun was shining and a lovely day even though I didn't do much. Another new track was made by myself and John over by the area thats known as 'The Football Field'. Yesterdays outing has 2 albums. 30_05_04_Denmead_anne & 30_05_04_Denmead_rik . A new site offered by Wessex Hillrunners. Although I call it 'Denmead' it is actually a few miles away. I believe the club call it 'Prews Hanger'. A great site for newbies but a little tame for 'The big boyz'. Nevertheless another great day! Nothing broken, well, a split in my radiator hose (easily fixed), and a nice burgervan!!!
I have also re-written some of this page. A few links have returned. Alot of 'Offroad Albums' have returned, accessed by the 'Offroad Albums' menu.
A new menu has been introduced, 'Car Projects'. I will be adding a write up to the Bobtail album shortly. Please mail me any suggestions or requests for any extra write up's to accompany any album.

30-May-2004 Running out of space again! I have borrowed some webspace from a friend of mine. You can view his website here " Maintain Property Maintenance".
A big sort out has followed with a few of the older picture albums back. You will notice the left hand menu has changed a bit also. I hope it now works ok. All the picture albums are accesed from the menu on the left. I still have last weeks outing to go up (Romsey) and today we are off to a new site. We'll see what happens. Michelle's wedding is also to follow now I have space.

27-Apr-2004 It's been a while....AGAIN! But we're back. A new site was visited on sunday. My first impressions were a bit down hearted due to the lack of passing places on some of the tracks. As time went by and we explored a little things started to brighten up. Then came the suzuki's. A fine bunch of guys! The gauntlett was layed.... what ever the rangies did the jimmy's had to follow and vice versa. John's car is still off the road due to lack of diff's, (sore subject). Both Lee and John suffered damage.... both caused by John!! I was suffereing an overheating problem because I hadn't cleaned my radiator properly. All in all not a bad day! 24_04_04_Chillgrove_farm

BEST AUTOCENTRES has now opened. Take a look at the Yellow Pages web page for them by clicking HERE. It will open in a new window. Although the page states 'Brakes, Exhausts, Suspension and Tyres', the guys there will undertake almost any mechanical repair. Quote this page/advert when visiting!!

Unit 8
Winchester Trade Park
Easton Lane
Winnall WINCHESTER
SO23 7FA
Tel: 01962 866977
Fax: 01962 866119

31-Jan-2004 Pc is back online after a motherboard problem! Jon and I entered another punch card day at Brick Kiln Farm. Lee and Eddy came along later. For more info click HERE to see the 1st event and read about the rules. The rules were the same for the second event. 18_01_04_Brick_kiln. Not many pics as I broke down with a dodgy alternator.

Webspace needed; Bumper/Seat album gone Plantations album gone...

25-Jan-2004 A little late as usual. Here's 12_01_04_Brick_Kiln with Wessex. Part 1 & Part 2 (The one where John rolls it!!!)

17-Jan-2004 Once again its been awhile... Hope y'all had a good crimbo etc. Here's our outing to 28_12_03_Romsey.

Romsey_shire_29_12_02 has been removed.

Profiles have gone for the moment.
Merry crimbo!!! blah blah blah......
21-Dec-2003 Bumper/Seat install pics are up!

20-Dec-2003 Hi, its all go now.... The rangie has been to hospital.... new remapped ecu fitted (the old one was over fuelling). New temp. sender fitted. Different airflow meter. Today, (Sat) Mark is coming to weld me some new seats in! Lee has bought a gem of a Bobtailed Rangie so he is back on the road again..... Rumour has it that Eddie should return soon with a road legal car again (new MOT). John 'the submariner' Piper is working on some fuel injection for his Range Rover/Suzuki thingy wotsit. And I've just changed another halfshaft which was broke last sunday. Next meeting Bunny lane, Romsey on the 28th with Shire.

Mannington pics have gone.

OME Disco pics gone.

Last Sunday's swim at Bunny Lane Romsey are now up!! Romsey 14 12 03

09-Nov-2003 Not much happening. My Rangie is waiting to go on the diagnostic tuner as I'm having starting troubles. It will run, so if an event comes up then I could make it. Lee's rangie is most certainly dead now. Alf's landy has now been sold :-(

04-Nov-2003 We were at Brick Kiln at the weekend with Shire. Marks pics HERE. Riks pics HERE

Running outta room again....... Marks spring fit gone!.

19-Oct-2003 Today we were at Romsey (Bunny Lane). New clutch for me. New 'auto' box for John. I broke a front halfshaft and Lee's car is now no longer safe!!!

12-Oct-2003 Its been a while but here's the pics of the other week at Bordon with my brother inlaw 'Glynn' and Lee.
A tribute to Mark the welder!

31-Aug-2003 Big Clear Up Day. I'm running outta webspace... things have to go. A list of whats gone.

Allotment and Family pics etc

The Surrey Sawmills 28th July 2002 album with Wessex Hillrunners

The Surrey Sawmills 15th September 2002 album with Wessex Hillrunners

The West Tisted album 8th December 2002 with the Hillrunners. Without me :-(
The Romsey Landfill album with Shire LRC
Our afternoon at Morestead 09 03 2003
The Morestead album
The Brick Kiln Farm album 5th January 2003 with the Hillrunners
The Bordon album with the Jeep Club

I have taken a few of what I thought the 'better' pics and made a new album.

EFI engine pics are now done

27-Aug-2003 A few pics of our last outing to Romsey.

24-Aug-2003 Ok... so its been a little quiet lately... I had a few problems with my carbs (again).. and the the oil kept getting too hot and losing pressure.. then the alternator blew up... then I rewired another and that went up in smoke....anyway... Out with the old...in with the new.... a 3.5 efi. It go's a little better now! Pics soon.

23-Aug-2003 I have a For Sale section

10-Aug-2003 Need Colway tyres... check the links page in the 4x4 section.

25-Jul-2003 Anne's pics... sorry for delay....

13-Jul-2003 Added Romsey 7th July 2003 album. Also look for Anne's pics.

23-Jun-2003 Added The Allotment/Car park pictures. This is why I have not been out off roading. Rangie also requires Tax and MOT which will be sorted this week. Hopefully we will be going out on the 1st sunday next month.

23-Jun-2003 Added Marks spring fitting (At last)

23-Jun-2003 Added fitting of OME shocks n springs to Disco

21-Jun-2003 Picture of Amanda's car added to Our Landy's

08-Jun-2003 I have acquired some landrover workshop manuals in "pdf" format. Let me know if you would like a copy.

01-Jun-2003 Series 2a Rebuild added

25-May-2003 Tree Removal pictures removed

21-May-2003 'Rangie Born' a couple of pics before the chop!

21-May-2003 My Old Series 3 LWB A few pics of my series 3 LWB

18-May-2003 IFS gone... Sarah pics gone. Running outta space so more stuff gonna go. :-(

18-May-2003 Mannington Part 2 added

11 May 03 Tree Removal pictures added

05 May 03 New album added to 4x4 Offroading albums Mannington 27 04 03

Rangie fix page 3 now working.

At last... I gotta Guest book. Link on menu.

Rangie fix pages added. Page 3 not quite working properly. (sorry).

A couple of pics to Marks Profile

Update to "Our Landy's" with a few extra links

Update in Offroading albums "Green Lanes and on to Bordon 13 04 03"